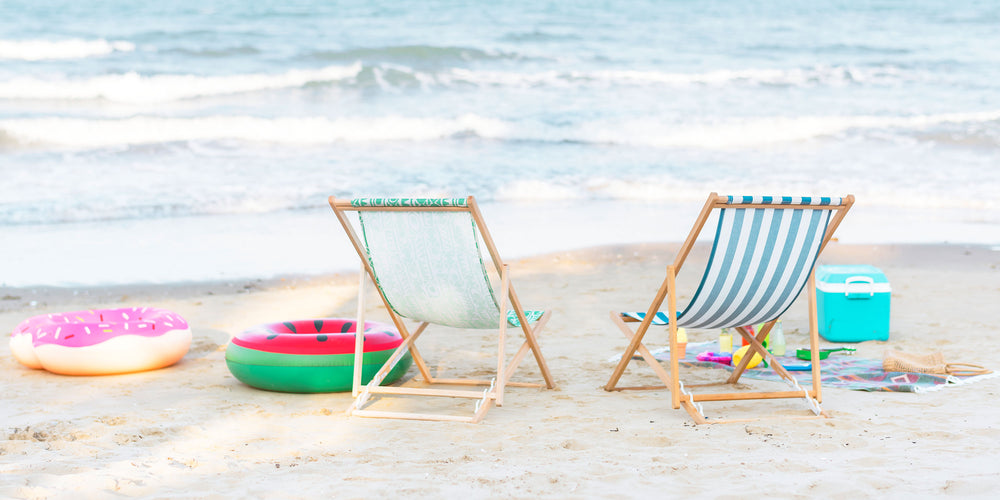 Keeping the whole family busy for weeks on end isn't easy. A shakeup to your usual routine, a lack of ideas and unpredictable British weather can often leave you feeling frazzled. Armed with a few simple organisational tools, some friendly pointers and a bundle of energy, we believe you can make this summer the best yet! Read on for our fun and simple activities, along with a few helpful recommendations to keep your family schedule organised this summer.
A day beside the sea
We're so lucky to be surrounded by beautiful sandy shorelines and bustling harbour towns. Whether the sun is shining or it's weather to don welly boots, taking a trip to the sea is always a fun activity for all ages. Grab a net to go crabbing, hit the old fashioned arcade with pockets full of pennies, or take to the surf for an afternoon in the sun. A dose of sea, sand and seagulls costs nothing and is guaranteed to leave big smiles on everyone's face.
Jam pack a diary of play dates
Time to catch your breath, collect your thoughts, and plan for the week ahead? Yes, please! Scheduling regular play dates, coffee meets and sleepovers will give you some much-needed time out from a hectic school summer holiday, as it will for friends and fellow parents if you can host little ones in return. Our Family Life Book Diary has a clever seven column layout, allowing you to coordinate all the family without clashing appointments and forgotten meetings. It's perfect for tracking all your upcoming plans as well as scheduling in precious time to relax.
Go for gold
Whether you have a fiercely competitive family football match planned or an afternoon of Frisbee in the park, being active is not only fantastic fun but is also great for little ones too. From swimming lessons to keeping up with the cricket or simply a trip to the shops for strawberries and cream. Sport in the sunshine always goes down well. Grab a bat and a ball and head to the park or ask around in the local community to discover kids clubs and sporty summer schools. Game, set and match!
Time for a treat
A trip to the cinema, a day at the zoo, or even a holiday of a lifetime. Everyone deserves a summer treat or two. Whatever you have in mind, planning ahead and budgeting accordingly should see your day go off without a hitch. A Budget Book will help ensure just that. Monitor your money every month, including bills, home expenses, income, savings accounts and day-to-day spends. With a clear view of what's coming in and what needs to go out, you can plan a special something for all the family without blowing the budget.
Pack up a picnic
Round up friends and family, dig out the picnic blanket and set off to your favourite location. A trip to the park, the beach or even your back garden, they can all be the perfect venue for fun dining in the sun. We've recently written a blog post full of top tips on planning the perfect picnic, you can take a read here.
Extra organisational tips and tricks
The Boxclever Press Blog is full of information, guides and news to help you lead a calmer and more organised life. Whether you're looking for revision methods or family meal ideas you're sure to be left feeling inspired. Don't forget, we love to hear from our customers! If there's a topic we haven't covered yet or a burning question on the tip of your tongue, why not pop over to our social channels and get in touch!
Previous Post
British Stationery Company Boxclever Press gains Royal Recognition