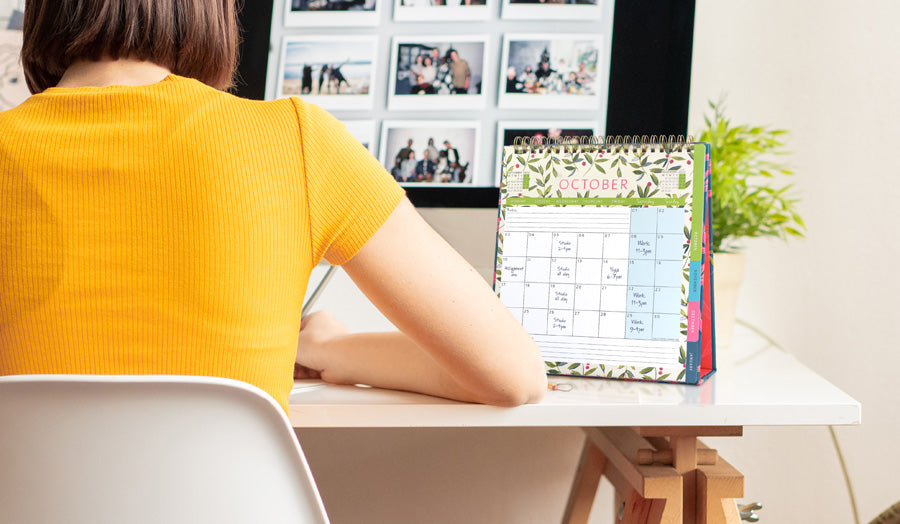 Kicking back on the sofa, TV on in the background may seem like an ideal working environment, but anyone who's tried it will know productivity levels soon dip, and hours spent watching shows clock up - great for conversations with friends, but not quite so brilliant for any looming work deadlines! Creating an at-home office space that is calming, practical and productivity inducing can be done easily and on a budget thanks to our tips below. Read on to find out our top ten points to consider when making your very own inspiring workspace.
Our 10 top tips for setting up your own office at home.
1. Colour is very important as it can set the mood and can subconsciously affect your attitude towards work. Colour is a very personal choice, but it is well documented that tones such as red and orange are to be avoided for their intense and distracting nature whereas colours such as blue and green inspire focus. Yellow, on the other hand, is considered to be the most optimistic and happy colour.
If painted walls aren't your thing, choose a subtle grey to give the area depth and interest without creating a distraction. Think carefully about the work you are trying to achieve and what you want to get out of your space. If repainting walls is not an option, think about how you can add some colour using desk accessories, storage boxes, pen pots or your chair are all areas where you can amend easily and at a low cost.
2. Love your location. The placement of your desk is just as important as the desk itself. One of the biggest problems new home workers face is a lack of concentration and being unable to disconnect from home to work life.
It is not necessary to dedicate a whole room to your home office, but it is vital to be away from distractions and keep all your work in one place. To have the most productive and healthy workspace, keep all work items out of the rest of the house and likewise make your desk environment a place of work without the temptation to do unrelated tasks.
3. Are you sitting comfortably? There's a thin line between building an ergonomic workspace and creating a casual one. We all want our home office to be a nice space to be in, but be strict on what you allow into your home office, as making it too informal will impede your ability to get things done.
Separate yourself from interruptions and think about the essential items you need to be comfortable without being too relaxed. Investing in some headphones and creating a great playlist to keep you content yet motivated whilst you work is a great tip to ensure you're content during the day.
4. Be creative with your décor and create a space you want to work in each day. Minimal does not have to be plain, putting your own stamp on a working environment can boost productivity as well as helping your brain tick over new innovative ideas. Easy ways to inject your personality into your home office could be wall art and calendars, candles, prints and indoor plants.
5. Motivational touches make an impact. Do you have an inspirational quote that you live by? Inject this into your workspace and give yourself daily reminders of your favourite inspirational quotes and phrases to keep you going when you feel unmotivated. We are all guilty of occasionally needing an extra push to start a new project – perhaps writer's block has set in or you find yourself dreaming of a week off – and losing motivation is something we all experience! A4 or even larger prints on the wall around your desk are a great way to remind you why you started and where you want to be, in order to help maintain productivity levels.
6. Choose the right stationery for you. As self-confessed stationery lovers, we might be biased, but the key to an organised and productive desk is all in the stationery. Whether you work best with an academic diary, a large wall chart or a traditional wall calendar, our selection of stationery is perfect for home office use. Our Simply Study Desk Calendar for instance is great for smaller spaces and a helpful planning tool for anyone wanting to see their monthly projects and deadlines at a glance. Another essential that we all agree we couldn't be without are post-it notes. They quickly resolve a frazzled mind and help you note your ideas down efficiently, they truly are a desk staple.
7. Put thought into your lighting. You may think coffee is responsible for getting you through the day, but lighting has a huge impact on your ability to work efficiently too. Allowing natural light into your workspace will not only boost your productivity but is healthier than dull light bulbs and can keep pesky headaches at bay. However, natural light isn't an easy office essential to acquire and is not always possible during the winter months. If you don't have natural light in your workspace, consider investing in additional lighting for your space or upgrading your current light bulbs to LED.
8. Treat yourself to clever storage. Don't let being in the spare room or working from the back wall of your bedroom prevent you from feeling unorganised. Utilise wall space by adding shelves to maximise storage and create an aesthetically pleasing place. Floating shelves make a great minimal addition, or if you are looking for something more exciting check out boxed shelving or baskets attached to the wall. As well as hiding unsightly belongings, they're great for housing soothing houseplants and the fun motivational prints we mentioned earlier!
9. Is there anything else? Start life in your new home office by making a list of the equipment you use on a daily, weekly and monthly basis. This allows you to work backwards to establish what is a necessity on your desk, and what could be stored away for use at another time. Don't be afraid to question if you really need something, remember a clean, tidy desk space helps to boost productivity. This method is also a great way to help clarify what new tools you need to invest in, helping to save money on unnecessary purchases.
10. Clean and organise your space by simply setting aside 5 minutes a day. This will help you keep on top of tasks and prevent your environment from becoming overcrowded. Regularly review the items you have on your desk and ask yourself if each one adds value or motivation to your work. If they don't, this is a clear indicator of what you should consider rehoming somewhere else in your house, selling or donating!
Previous Post
Keeping your life organised on the go with Lisa from Living Thrifty
Next Post
Home educating Mum Kirstie on the Family Life Book